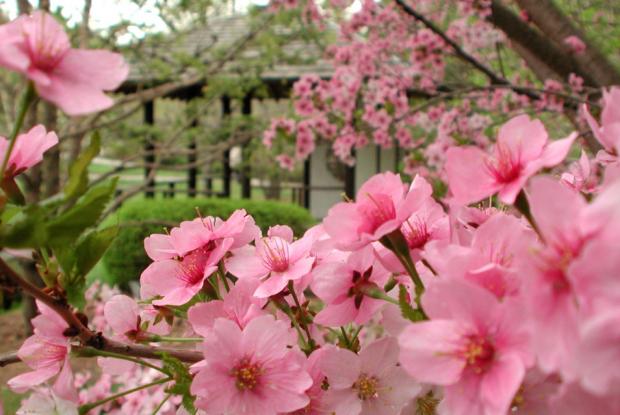 NOTICE TO VISITORS
Due to the health measures in place, photoshoots for weddings
and other events are not allowed inside the exhibition greenhouses until further notice.
Thank you for your understanding.
Photoshoots for weddings and other events
To capture the loveliest moments of yourevents, the Jardin botanique offers you the opportunity to shoot lifestyle photos (wedding, maternity, family, graduation…) on its enchanting site, either inside one of its greenhouses, or outdoors in one of its many gardens. No contract or reservation is required; however, certain rules must be followed to ensure the comfort of other visitors and to maintain the site in good condition.
Certain fees are applicable (admission to the Garden and parking fees) and, additionally, precautions must be taken not to damage the premises or interfere with the Garden's operations, while enabling other visitors to enjoy their visit to the fullest.
Please note that we do not offer any complimentary services : accompaniment, transportation on site, etc.
Fees for participants
Individual admission
Participants must pay entry fees.
In greenhouses (all seasons)
In outdoor gardens (May to October inclusively)
However, please note that groups of 15 people or more receive a 15% discount. Also, groups of 21 receive a discount – the 21st person gets in free. No reservation is required: agents in the booths will make sure that you receive the discount to which you are entitled.
Parking fees
Participants must pay parking fees.
For photos in the greenhouses
An additional $105 per group is required. (Maximum of 12 people admitted for the photo at one time.)
Photos must be taken during regular opening hours.
Tripods are not allowed in the greenhouses.
Depending on how many people are visiting the greenhouses at that time of day or year, the agent at the entrance will decide whether photos may be taken, in order to ensure a pleasant visit for all visitors.
Persons involved in taking photos must ensure to minimize any inconvenience to other visitors. In this respect, the Jardin botanique reserves the right to intervene to preserve the quality of the visit for all visitors.
The person responsible for taking photos and their guests accept responsibility for any damage that they may be caused to persons, Jardin botanique property and their own personal effects, including their clothing.
Commercial and professional photography
The Montréal Space for Life gladly welcomes any promotion and broadcasting of its installations. Requests for commercial and professional photography, including projects for print, web or in-store publication with or without the presence of models, should be directed to the Commercialization Department for authorization, and certain restrictions apply in order to respect the regulations in force. A valid photography agreement and supervision are required and commercial photography fees apply.
Half-day fees (4 hour period)
1-5 people : $510
6-15 people : $715
Full day fees (maximum of 9 hours)
1-5 people : $920
6-15 people : $1 225
Additional time : $205/hour
Location availability
Photoshoots taking place in low season (November to mid-May) are preferred. Requests for shoots scheduled during the high season will be assessed based on their impact on regular visitors. Shooting inside our museums (Botanical Garden's exhibition greenhouses, Biodôme's ecosystems, etc.) must take place outside of public opening hours. Do not hesitate to contact us to confirm availability.
In order to preserve the integrity of the site and the collections presented by our museums, the team is subject to the general regulations enforced in the institutions, in particular:
It is forbidden to settle in flower beds or enter ecosystems;
No one may climb on or damage any of the trees, works of art or buildings.
Guarantee
The production company agrees to warranty and hold the City of Montreal harmless and to take its part in any claim or any action for damages of any nature whatsoever resulting directly or indirectly from the production company's occupancy of the site, and to defend the City of Montreal and indemnify it for principal, interest and expenses for any claim or judgement against it in this respect.
Moreover, before occupying the site, the production company must take out third-party liability insurance of $2 million for bodily harm and material damage resulting from its occupancy of the site, in which the City is designated as co-assured. Finally, the City of Montreal is not responsible for guarding or overseeing equipment provided by the production company or for any damage resulting from the presence of this equipment on the filming site.
Don't hesitate to contact a member of our team to validate the possibility of a photo shoot, according to availabilities.
Room rental service
514 872-0859
[email protected]
IMPORTANTE NOTE
Please note that student projects are not allowed on our sites.
Commercial or professional photography request
Please use the form below to send us your request.